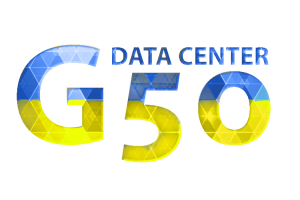 50 B, Gaidara str., Kyiv, Ukraine, 01033
+38 (044) 205-55-55
Standard server cabinets 48 units 600 x 1000-1200 mm;

Air supply – from the bottom in front (60-80% perforation) into the cold corridor;

2 independent power rays in each cabinet;

Payment for consumed electricity – according to the individual meters. You pay only for that amount of electricity which you actually use;

Ability to accommodate non-standard cabinets by an individual project;

Minimum rent amount – 5 units;

Raised floor with an antistatic coating, increasing load capacity in heavy zones and with an additional shielding, reinforced by metal sheet in the bottom;

Screening and removing of static electricity in the air stream under the raised floor;

Place to work with the equipment, if there is a necessity for its enduring adjustment or disassembling.
Total capacity of 2 MVA;
Independent input power of 2 x 1 MVA;
Two independent transformers and two distributive groups TS;
Two separate 10 kV lines that are connected to two independent transformers 27 / 10kV;
Automatic Gen Set;
Fuel capacity for 24 hours;
UPS by Emersion production of APM type, modular system redundancy 2N + 1;
Minimum 12-minute work from UPS battery at a full load;
Automatic bypass of UPS;
Intelligent system of remote monitoring and equipment control Liebert IntelliSlot;
Automatic Transfer Switch (ATS);
ATS with electromechanical blocking and switching on static actuators – absence of sticking contacts and scorching contactors probability and protection from humans' errors;
Power distributors of low voltage with independent protection of each ray and hand-held bypass, with the ability to switch two supply lines;
Independent from grounding TS system of working and protective grounding – 2 spaced drillholes with the depths of 68 and 76 meters combined by cooper bus-bar;
Spatial separation of power cables and low-voltage networks;
Engineering arranging of the perimeter substation additional security.
Precision-build Emerson Liebert HPM dry conditioners with electronically adjustable performance and redundancy N + 1;
Intelligent remote centralized monitoring and equipment controlling system Liebert Intellislot;
Absence of circulating water under pressure in the server room;
Minimal risk of flooding.
System of gas volumetric firefighting;
Equally distributed placement of balloons in the room and under the raised floor;
Absence of gas lines, distributors and other elements that reduce the reliability of gas operation and its supply to the quenching;
Highly sensitive system of VESDA for the early smoke detection;
Fire-resistance of shielding constructions – at least 2 hours;
SC is made from the combustible cable;
Fireproof doors for all entrances.
Full range of telecommunications services on preferential terms;

Free choice of any provider;

Connecting by optical (Single Mode) or copper (Cat 6) interfaces;

Independent spaced bushings into the building;

Individual cross room for connection with service providers;

Ready-optic backbone for connection on sites Gaidar, 50 and Leontovycha 9;

Ability to connect E1 (G.703);

Lease of channels and streams in Kyiv and Ukraine.
Physical security provided by leading security companies;
Centralized security management system;
Possibility of remote monitoring of leased cabinets (for equipment);
Full review of all areas and approaches to them, cabinets, hot and cold corridors of the territory adjoined to the building territory by digital video surveillance CCTV (2 independent systems);
Keeping records from all cameras for 10 days;
Withdrawal images on security personnel's monitors and to general management center G50;
Monitoring of protected space motion sensors;
Metal certified fireproof doors of intensive type;
Blocking of all doors with electric locks with a pullout force of more than 300 kg.
Registration system and access control with using of contactless readers.
Three turn access control to premises of server data centers;
Entrance into server-sides through gateways with the line of access control and video-monitoring;
Lighting perimeter of the building and protected area;
Engineering structures of physical area protection.